Sometimes life brings us more than we truly deserve. That was certainly the case this past weekend when I had the pleasure, nay, honor, of attending the inaugural game of the second iteration of the XFL.
Who knew it would be such a blessing to live one hour away from Audi Field, home of the D.C. United and now the DC Defenders? Of course, my love of all things Baltimore means cannibalism is a more realistic option than rooting for any Washington sports team. I don't care that Baltimore doesn't have an NBA or NHL team...the Wizards and Capitals can kick rocks, and so can the Defenders. My only logical choice? Become a diehard fan of whichever XFL team faced the Defenders in Week 1.
When I found out said team was named the Dragons — with a fire-breathing logo to match — it didn't matter that they play in Seattle, a city I've never been within 500 miles of. Sure, Seattle infected the country with subpar coffee and Amazon, but it also gave us Pearl Jam and now an XFL team named after a fictional animal from fantasy books.
It just so happens that I'm currently rereading A Dance With Dragons, the fifth book of George RR Martin's ASOIAF series. Some might call that coincidence or a product of the subconscious forming connections. But we know better, so we'll call it what it is — fate, or perhaps even divine intervention.
The Xperience
I have to confess that my enthusiasm for the XFL, while undoubtedly tremendous, is still a tick below my enthusiasm for brunch, which in this case was a brisket skillet at Khepera's Kitchen in Baltimore. My friend and I got a late start heading toward DC, and we then ran into some traffic because that's what happens literally every day of the year when the suburban sprawl dwarfs the city itself.
Fortunately, I was able to find free street parking within a 10-minute walk of the stadium, right near Nationals Park in the Navy Yard neighborhood. Perhaps I got a bit lucky on that one, but I promise there's no degree of luck that will allow you to find a free parking spot within half a mile of any NFL/NBA/MLB/NHL game (ok, maybe the Orioles, but that's essentially AAA baseball).
The short walk to the stadium was highlighted by an overly friendly Defenders fan, who, for some unknown reason, decided he wanted to be my best friend. Among other things, he wanted to know if he could sneak a pint of Jack Daniels into the game, and then he asked me if I wanted a tab of acid. I think he was kidding about the second part, but I'm not 100 percent sure.
We managed to shake the chatty acid guy and found our way into the stadium late in the first quarter. One of the first things I noticed was a long line for the men's bathroom, compared to no wait whatsoever for the women's bathroom. Am I an idiot for being genuinely surprised that the male:female attendance ratio was reminiscent of an Insane Clown Posse concert?
Fortunately, the bathrooms were clean and well-equipped with plenty of urinals, so what initially looked like a long line actually moved quite fast. We made it to our seats at the end of the first quarter, sitting 28 rows deep behind the end zone. It was far from the best seat in the house, but I was happy with the view for $24 per ticket ($27.60 after ticketmaster fees).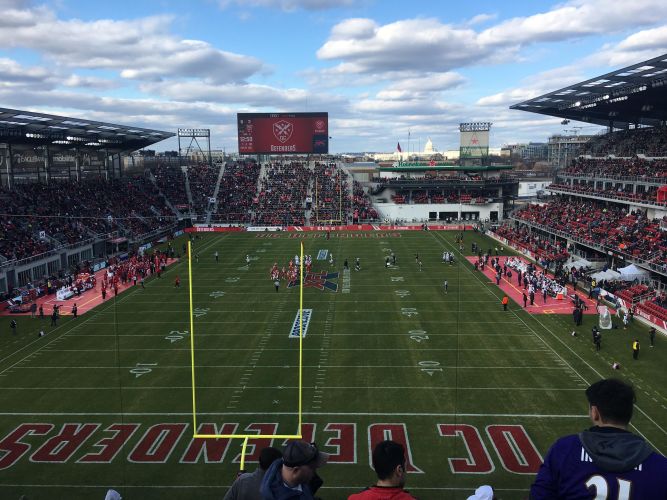 There's a lot be said for playing in a two-year-old, 20,000-seat stadium that was designed for soccer, rather than a crumbling 70,000-seater meant for football. When you put 17,000 people in a 20,000-seat stadium, it's possible to have a lively atmosphere. Maybe it isn't impossible to create that effect in a bigger space, but I can't imagine it's easy (with apologies to #Duval).
The Defenders pulled it off, with help from a rowdy but (mostly) respectful crowd. People got loud when the home team needed a big stop on defense, and they also got loud for no apparent reason, including semi-regular "MVP" chants for Defenders quarterback Cardale Jones. I have to confess that I was one of those people, utilizing the HILARIOUS shtick of yelling "Dracarys!" whenever something good happened for my beloved Dragons.
I'm not sure if the announced attendance of 17,153 refers to the number of tickets sold or the number of people in the stadium. Either way, it seems like a good representation of the latter, as I would've guessed that the stadium was about 80-to-85 percent full, with higher fan density in the cheap seats and lower density in the expensive ones.
The crowd skewed young and male, though I was seated right next to a family with a young son who seemed to be enjoying the game as much as anyone else. The language used in the crowd might bother some people with young children, but I've never really understood why it matters if a six-year-old overhears a "bad word." To each his/her own, I suppose.
There wasn't any fighting or even the slightest sign of legitimate hostility, and I have to admit I was a bit disappointed that there were so few Dragons fans stirring the pot. Nobody bothered us for rooting for the visitors, but a bunch of people did ask out of curiosity why we chose the Seattle team over the local squad.
For what it's worth, my friend lives in Philadelphia, so for him the DC Defenders are no more "local" than the vaunted New York Guardians. (Yes, that means he endured three hours of driving each way to attend this game — props where props are due. Also, let's give a shoutout to his fiancée, Stella, who didn't complain about a full day being devoted to the XFL while they're in the process of planning a wedding.)
Ira and I went to the game decked out in Dragons gear, which in this case meant leftover t-shirts from his Bar Mitzah from 15 years ago. I don't really understand why his Bar Mitzah t-shirt had a dragon on it, but I guess it worked out pretty well for me. I do intend to buy a Seattle Dragons hat at some point before I die, but I wasn't quite ready for the investment without sampling the product, and now that I feel more committed it turns out the team store is running dry.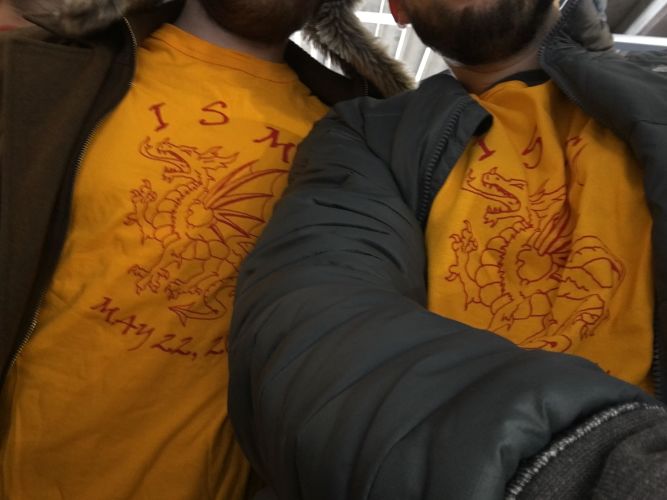 I was legitimately shocked by the number of fans sporting DC Defenders gear, including quite a few jerseys. There were also a bunch of people repping Lamar Jackson or other Ravens, and even one group of guys who had taped "Jones" (for QB Cardale Jones) over an assortment of NBA and NFL jerseys. Conspicuously absent? Jerseys from the local NFL team. Well, actually, I definitely noticed one:
The On-Field Product
I had a great time attending the game, so I don't want to say that the on-field action was "bad." However, I also don't want to lie, so maybe we can just agree that it was the opposite of "good"... however one cares to define that.
Lowlights included a shanked chip-shot field goal and a blocked punt returned for a touchdown, while the top highlight was a razzle-dazzle, 39-yard touchdown pass from Jones to tight end Khari Lee.
I'm not quite sure how Jones finished the game with 9.0 yards per pass attempt, as it felt like both teams had trouble moving the ball. I can't recall ever watching an NFL game with more dropped passes, nor can I remember many games where both quarterbacks struggled with accuracy to this extent.
The Defenders at least brought some ingenuity to the table, while the Dragons' passing game was nothing but RB screens, short crossing routes and WR jump balls. Dragons quarterback Brandon Silvers struggled to put the ball on target and often saw it dropped even when he did. I realize it was the first game of a new league, but his lack of athleticism and arm strength was obvious, even in comparison to Jones — another sub-NFL player — on the other side.
The Dragons should promote B.J. Daniels to the starting job for Week 2, and they should probably fire coach Jim Zorn while they're at it. Betting odds at the start of the season hinted at a healthy does of skepticism regarding Zorn, who quickly justified it with a brutal offensive scheme and overly conservative decisions on both fourth downs and PATs.
XFL rules discourage punting and encourage teams to try for two or three points instead of one after a touchdown, but I suspect Zorn is one of those guys who prefers losing with an old-school mentality over winning with logic. On the bright side, his defense actually looked decent, with the Defenders needing a special teams TD and a defensive TD to pull off a 31-19 victory over the Dragons. It was also cool that Audi Field had a clear view of the Capitol Building, a useful reminder that Zorn and Silvers technically weren't the biggest buffoons in Washington on Saturday.
Offensive line play was another bright spot — at least for the Dragons — which wasn't something I expected going into the game. Silvers mostly had time to throw, undone by the combination of inaccuracy and drops rather than shoddy blocking. The Dragons even showed some promise on the ground with a 4.6 average on 21 carries, while the Defenders managed just 2.4 YPC on 28 carries, though top running back Jhurell Pressley looked decent to the naked eye (Donnel Pumphrey, not so much).
The game provided an extra treat for Ravens fans like myself, with the Defenders using a safety duo of Matt Elam and Rahim Moore. The former was Baltimore's 2013 first-round pick, a Day 1 starter who never really recovered after he miraculously forgot how to play football during a come-from-ahead playoff loss to the Patriots at the end of his second pro season. Moore, on the other hand, is very popular in Baltimore, thanks to his inability to time a jump:
Xtra Thoughts
I rate the stadium experience as an A- and the actual football as a C-. For me, that essentially averages out to a B+ overall, because I don't need the play to be more than semi-watchable in my second-favorite pro football league. I guess I might drop the grade to a B- if the quality doesn't get better throughout the season, but we can probably assume there will at least be incremental improvement.
Audi Field is a perfect venue for the XFL, and I'll definitely make it a point to return to the stadium, be it for another Defenders game or a D.C. United match on the ol' footie pitch.
The concessions were overpriced, but the quality looked much better than typical NFL or MLB offerings, and I don't mind paying $13 for a chicken sandwich if it tastes good and comes from a stand with a fun name.
The one disappointment at the stadium was the audio system, which A) Wasn't loud enough; and B) Didn't provide access to many of the on-field interviews that the XFL has been pushing as a unique feature. There were local high-school students performing between quarters, and both fan contests were thoroughly amusing. The first was two kids attempting to put on football uniforms and then race in them, while the second was some adult making a fool of himself with his inability to kick a football between the goalposts. I do wish we'd had better access to these lovely sideline interviews: