This article is part of our DraftKings PGA series.
TOUR CHAMPIONSHIP
Purse: $46M
Winner's Share: $15M
Location: Atlanta
Course: East Lake Golf Club
Yardage: 7,346
Par: 70
2019 champion: Rory McIlroy
Tournament Preview
The controversial sliding-scale scoring system introduced last year for the season-ending Tour Championship could not have worked out any better for the PGA Tour. Now we'll see about this year.
Rory McIlroy not only won the 2019 Tour Championship, he had the lowest score over 72 holes. Of course, that's normally how golf, and all sports, work. But it's far from a given under the new setup. To refresh, the FedEx Cup points leader going into East Lake begins at 10-under, the second-place guy at 8-under and so forth, all the way down to the final five guys at even par. The Tour's name for this is Starting Strokes (which, between you and me, is not all that catchy). The goal was and is to avoid having different winners of the tournament and the playoffs, as happened in 2018, when Tiger Woods won the Tour Championship and Justin Rose was crowned the FedEx Cup champion. McIlroy began last year with a score of 5-under, in fifth place, and shot 13-under on the week to win at 18-under. No one in the field matched 13-under, a fortuitous development for the Tour. Even better, runner-up Xander Schauffele, who began at 4-under, shot the second-best score of the week, 10-under. Sheer perfection for the folks in Ponte Vedra. But it's more likely to not happen like that, so that's what we should expect. Of course, the Tour is fully prepared for when that happens.

Justin Thomas, who the leader heading into East Lake a year ago, began at 10-under but shot only 3-under for the week and tied for third at 13-under. He was priced at a whopping $15,500. This year's front-runner, Dustin Johnson, is at $15,200, ahead of Jon Rahm at $12,700. At the other end are Cameron Smith ($5,100) and Marc Leishman ($5,000). In short, all this throws conventional lineup configuration out the window. But the prices make complete sense. DraftKings scoring will remain exactly the same. Where it can "screw" you (and whenever someone gets screwed, someone else gets helped), is with the final-standings bonuses: The winner of the tournament will get a 30-point bonus, then 20 for second, 18, 16, 14 for fifth and so on.
So is the two-stroke advantage DJ will take over Rahm onto the first tee on Thursday morning worth $2,500? Off the top of our heads, that seems fair. Look back to just last week and see where DJ and Rahm would've ended up with a two-shot differential (answer: not in a playoff).
Let's try a little math. Picking Johnson would leave you with $34,800 for five guys, an average of almost $7,000. On the surface, that seems horrible, to have to pick five $7,000 guys. Of course, you don't have to pick five scrubs, you just have to average $7,000. And $7,000 this week is not what $7,000 is most weeks. This week, $7,000 is ... Tyrrell Hatton, the No. 15-ranked player in the world. So, DJ is is $8,200 more than Hatton, but there's also an eight-stroke bulge. Hatton, in 19th place in the FedExCup standings, is one of five guys starting at 2-under. You could take Smith and then also a guy worth almost $9,000. Who is $9,000? The No. 10 guy on the DK board, Schauffele, who will open at at 3-under-par.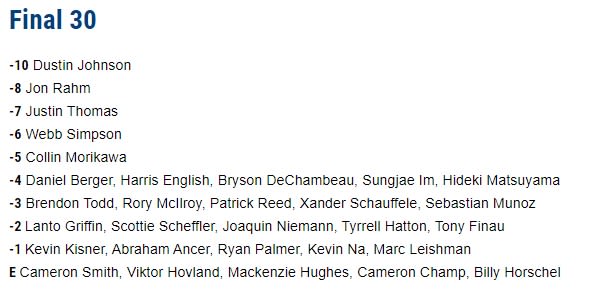 Now, let's get a little specific. After Rahm comes Thomas at $11,900, Webb Simpson at $11,000, Collin Morikawa at $10,400. Golfers in sixth through 10th place in the point standings will all begin at 4-under, but there is a vast gap in their prices, from Bryson DeChambeau at $10,100 all the way to Sungjae Im at $7,300. In between those two and also at 4-under are Hideki Matsuyama ($9,300), Daniel Berger ($9,100) and Harris English ($8,700). Here, comparing apples to apples, Berger might be the best buy in that 4-under tier.
As we talk this out, and write this out, those tiers seem like a good way to go about setting your lineup: Look at the tiers of five guys who will all begin with the same score and find value in their disparate prices. Among the guys starting tied for 11th at 3-under, it ranges from McIlroy at $9,700 to Sebastian Munoz at $5,900 – a huge gap. Guys tied for 16th at 2-under: Tony Finau at $8,200 to Lanto Griffin at $5,600 (a smaller difference, so Finau looks more attractive). Guys tied for 21st at 1-under: Kevin Kisner at $6,800 to Leishman at $5,000, a fairly small gap. And lastly, guys tied for 26th at even par: Viktor Hovland at $6,600 to Smith at $5,100 – the smallest gap.
Remember, there's no cut, so they will all play all four rounds (except for McIlroy, whose pregnant wife is due shortly and he said he would leave mid-tournament if need be). What we don't know, and can't know, is how each golfer will approach the tournament, being two strokes ahead at the start or eight strokes behind or wherever. But we will make our picks looking for bargains, not only in the usual places but in those five-man groups.
Before we move on, a quick look at the course. We get it that there's a historical connection to Bobby Jones, and that romanticizes things, and blah, blah, blah. But East Lake is far from thrilling, and it's usually not a very tough course. Last year it stiffened a bit, ranking as the 14th hardest after three years of settling in the middle of the difficulty pack. Granted, that's with the best players on Tour but still. The closing stretch is ho-hum; in fact, Nos. 17 and 18 were among the four easiest holes last year. The 18th, one of only two par-5s, was the second easiest on the track, which doesn't seem the proper way to cap a sport's season and to crown a champion. There were only eight bogeys or worse ALL WEEK on 18. That's a big yawn. What we like about East Lake is that accuracy off the tee counts here more than in most places because the fairways are among the handful of narrowest all season. And the Bermuda greens generally run very fast. We'll tackle that in the key stats and Champion's Profile below.
Weather-wise, it will be sunny, it will be hot and it will be dry. Temperatures will cool a bit as the week progresses, from the mid-90s on Thursday to the mid-80s on Sunday, with light wind all four days.
Key Stats to Winning at East Lake
The most important indicators every week are current form and course history. "Key Stats" follow in importance.
• Greens in Regulation/Strokes Gained: Approach
• Driving Accuracy/Strokes Gained: Off-the-Tee
• Scrambling/Strokes Gained: Around-the-Green
Past Champions
2019 - Rory McIlroy
2018 - Tiger Woods
2017 - Xander Schauffele
2016 - Rory McIlroy
2015 - Jordan Spieth
2014 - Billy Horschel
2013 - Henrik Stenson
2012 - Brandt Snedeker
2011 - Bill Haas
2010 - Jim Furyk
Champion's Profile
Guys who keep the ball in the fairway do well at East Lake. But the thing is, you can't just look at driving accuracy stats. East Lake forces just about everybody to keep the driver in the bag more than usual, so finding the fairway should be easier just by clubbing down. But it's still a hard course to keep it in the short stuff, with trees and rough and even some water lurking. Last year, McIlroy's stats were great virtually across the board, including off the tee. He ranked first in SG: Tee-to-Green, breaking down to eighth in driving distance and fifth in accuracy, fifth in GIR and fifth in scrambling. He was 11th in SG: Putting – in a small field that's pretty bad. Obviously, it didn't hurt him. Overall, the top-5 on the leaderboard all ranked top-10 in SG: Tee-to-Green but all were outside the top-10 in SG: Putting. So it's clear where the importance lies. The year before, when Woods won, five of the top-6 finishers were in the top-7 in SG: Tee-to-Green. Woods was only 14th in GIR, but he was first and scrambling and second in putting – as always, there's never only one way to win a tournament.
DRAFTKINGS VALUE PICKS
Based on Standard $50K Salary Cap
Dustin Johnson - $15,200 (Winning odds at golfodds.com: 2-1)
Last year, we stayed away from the huge $15,500 price for Justin Thomas. We aren't going with Johnson because he's $300 cheaper but because he's playing otherworldly golf, finishing 2nd-1st-2nd in his last three starts. He's finished in the top-6 in four of his past six trips to Atlanta, with a best of third two years ago.
Justin Thomas - $11,900 (5-1)
Thomas has played East Lake four times and has never finished worse than seventh. He tied for third last year and was runner-up in 2017. It's a battle between Thomas and Johnson for Player of the Year, with JT entering the final week with the edge, having won three times to DJ's two.
Webb Simpson - $11,000 (10-1)
Simpson made what appeared to be an odd move by suddenly withdrawing from the BMW last week. We don't know why he did, but if there wasn't a serious nature to his decision (injury, etc.), it may turn out to be a brilliant manuever. He fell only one spot in the point standings, from third to fourth, in exchange for being the freshest guy in the field after a grueling U.S.-Open-like week at Olympia Fields. Simpson will begin four shots behind Johnson. His East Lake history is strong, with three top-5s through the years, most recently a T4 in 2018.
Hideki Matsuyama - $9,300 (35-1)
Matsuyama has quietly been playing some very good golf the past two months, with top-25s in five of his past seven starts. The best of the bunch was last week's tie for third. That was an encouraging sign, but someone who puts as poorly as Matsuyama generally has a ceiling – for instance, a top-25 instead of a top-10. He's finished in the top-10 three of the past four years at East Lake, with two of those being top-5s.
Xander Schauffele - $8,900 (25-1)
This looks like one of top plays in the field, all things considered – price, starting position, course history. Yes, Schauffele is starting seven strokes off the lead at 3-under. But he was runner-up last year from a 4-under start. And he won it all as a Tour Championship rookie in 2017. In between was his worst East Lake showing when he tumbled all the way to ... seventh.
Tony Finau - $8,200 (50-1)
This is another guy we really like this week, despite starting eight shots behind Johnson. Finau has been sniffing the winner's circle of late but keeps missing (just like his putts). He's finished top-5 in three of his past five starts, including the PGA Championship and the BMW. He's played the Tour Championship three times, with a pair of seventh-place finishes sandwiching a tie for 15th.
Brendon Todd - $7,600 (100-1)
Todd will begin in the same 3-under tier as Schauffele but is $1,300 cheaper. Ranking fourth on Tour in driving accuracy is very attractive this week. Todd was sneaky good last week at the BMW with a tie for eighth. In his lone trip to Atlanta, he tied for 17th in 2014.
Kevin Kisner - $6,800 (200-1)
Kisner didn't get a third straight top-5 last week but he did make it five straight top-25s (granted, in a 70-man field that's not a huge deal). The South Carolinian usually plays well in this area of the country and after two times deciphering East Lake, he tied for third in 2017 and for ninth last year.
Billy Horschel - $5,700 (250-1)
Horschel hasn't qualified for the Tour Championship often in his career, but he makes the most of his opportunities. He famously won in 2014 and in his lone subsequent visit he was runner-up to Tiger Woods in 2018. He also was seventh in 2013. At this bargain-basement price, Horschel is bound to be a popular pick.
Mackenzie Hughes - $5,200 (500-1)
Hughes got in by the slimmest of margins on Sunday, needing to get up and down from a greenside bunker to get the final berth (though he's in the 28th position). He's far from great off the tee, which could be a real problem this week. But his short game is so good he's a good gamble to climb the leaderboard from all the way at the bottom at even-par. It's all a question if Hughes is just "happy to be here" for the first time or can return from Cloud 9 by Thursday morning.
The author(s) of this article may play in daily fantasy contests including – but not limited to – games that they have provided recommendations or advice on in this article. In the course of playing in these games using their personal accounts, it's possible that they will use players in their lineups or other strategies that differ from the recommendations they have provided above. The recommendations in this article do not necessarily reflect the views of RotoWire. Len Hochberg plays in daily fantasy contests using the following accounts: DK: Bunker Mentality.