This article is part of our DFS PGA series.
The Tour now heads to Los Angeles courtesy of Tiger Woods, as he hosts the Genesis Invitational at Riviera Country Club. As usual, we will be focusing on the opening round (Thursday) in relation to our picks.
If you are unfamiliar with how ThriveFantasy works, please refer to my introductory article here. Also first-time depositors who use the promo code: RotoWire will get a deposit match of up to $25.
COURSE OVERVIEW
Riviera Country Club - Par 71, 7,322 yards
Los Angeles, CA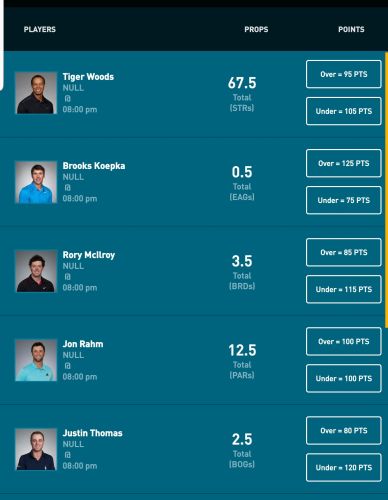 Before we discuss this course, the thing that stands out in this tournament is the field. This stop usually attracts the best and brightest, and this year is no exception. Guys like Brooks Koepka are making their debut here, and our 10-person field is packed with notable names.
Riviera is one of the toughest courses on tour, and the layout definitely favors the long ball. The fairways are narrow but fairly easy to navigate if you get into trouble, but cause you problems if you're slightly off in the Par 4s. Some of the Par 4s are especially long and are considered Par 5s by the membership, which is why I made 175-200 yard proximity one of my key statistics. The weather should be ideal all week, so no particular tee-time has an advantage.
*- based on 2020 small sample size
**- 2019 statistics due to small sample size
Tiger Woods - STROKES: 67.5
Tiger has never been one to be quick out of the gate, although his small sample size seems to indicate that he's improved in that department. Still I think 4-under might be a little to low for him on Thursday.
PICK: OVER
Brooks Koepka - EAGLES: 0.5
Koepka is a real wild card. He hasn't played much, and he hasn't played a competitive round on this course. Still, his length is his greatest asset. His 175-200 proximity led the field last season, which would bode well for most of his approach shots. I'm going to have to go conservative with this one.
PICK: UNDER
Rory McIlroy - BIRDIES: 3.5
No one is striking the ball like McIlroy this year. In fact, he's kind of in his own category. This course plays to his strengths, and I think his Par 4 Average is the stat that puts me over the top here.
PICK: OVER
Jon Rahm - PARS: 12.5
When we are presented with this kind of pick, we need to take into account all the other scores he might get - eagles, birdies, bogeys and double bogeys. Even if we are liberal with birdies on the Par 5s, we'd need to give him a lot of bogeys to go under this number.
PICK: OVER
Justin Thomas - BOGEYS: 2.5
Thomas' putter and 175-200 proximity are things that worry me here. I think his biggest bogey danger is if he misses greens and two putts. Three bogeys is a high over/under, though. I can see him bogeying two Par 4s but three is a reach.
PICK: UNDER
Dustin Johnson - EAGLES + BIRDIES: 3.5
I looked at this one and had a gut feeling about it right away. I think Johnson could easily beat this number with birdies alone. He has a great history with this course, and he could manage to squeak out an eagle to go with multiple birdies.
PICK: OVER
Justin Rose - PARS + BOGEYS: 13.5
Rose has been a little all over the place to begin the 2020 season, and I think his birdie opportunities might be limited to the Par 5s.
PICK: OVER
Adam Scott - STROKES: 68.5
Scott loves this course, and he sports the best Round Once Scoring Average so far this season. All he has to do is notch a 3-under, which is doable.
PICK: UNDER
Hideki Matsuyama - BIRDIES: 4.5
Matsuyama has the length to get to the Par 5s in two, and his ball-striking in approach shots has mostly been on point. Five birdies, though? It's a tough call, but based on his excellent finish in this event last year, I'm going to give him the benefit of the doubt.
PICK: OVER
Jason Day - STROKES: 67.5
I feel fairly confident about this one. I'd cap him at 3-under. As we saw at Pebble, His putter has been a source of frustration. It could continue to thwart him this weekend.
PICK: OVER
The author(s) of this article may play in daily fantasy contests including – but not limited to – games that they have provided recommendations or advice on in this article. In the course of playing in these games using their personal accounts, it's possible that they will use players in their lineups or other strategies that differ from the recommendations they have provided above. The recommendations in this article do not necessarily reflect the views of RotoWire.