This article is part of our DFS PGA series.
Today we're tackling the three-course layout of the Pebble Beach Pro-Am, which is consistently one of the Tour's favorite stops.
If you are unfamiliar with how ThriveFantasy works, please refer to my introductory article here. Also first-time depositors who use the promo code: RotoWire will get a deposit match of up to $25.
COURSE OVERVIEW
Monterrey Peninsula GC (Shore Course) - 6,958 yards, Par 71 Slope: 133
Pebble Beach Golf Links - 6,816 yards, Par 72 Slope: 145
Spyglass Hill Golf Course - 6,953 yards, Par 72 Slope: 145
Once again, we're faced with a tournament where the players will tee off from three different courses. Most of our selected players will play Spyglass on Thursday, and Jason Day will draw a tee time at the Shore Course, which is the easiest course by far. Matt Kuchar will tee off at Pebble Beach, where he has a great course record. I actually think that Spyglass is a more challenging track than PBGL in a lot of ways, but it lacks the historic and majestic signature holes, and has slightly more forgiving rough. Both Spyglass and PBGL have small greens that can be tough to hold, which is why I chose SG: Approach in my metrics.
While I picked these specific categories for Pebble, I think all of them still apply for the other courses. While neither Spyglass nor the Shore course has the kind of legendary vistas of Pebble, they all require accuracy on approach as well as off the tee. The stat I would discount the most is Scrambling from the Rough, as that stat is more specific to the challenges of Pebble.
2019/USOpen

Finish

2018

Finish

Round One

Scoring Average

SG: Approach
Scrambling: Rough
Driving Accuracy
Course
Dustin Johnson
T45, T35
T2
10
47
109
174
Spyglass
Jason Day
T4, T21
T2
131
213
211
203
MP:Shore
Jordan Spieth
T56, T65
T20
192
175
140
237
Spyglass
Matt Kuchar
T22, T16
T62
44
51
157
7
Pebble
Jason Dufner
DNP, T35
DNP
118
62
94
54
Spyglass
Phil Mickelson

1,

T52

T2
131
91
33
200
Spyglass
Patrick Cantlay

DNP,

T21

T36
5
6
224
12
Spyglass
Kevin Kisner
T28, T49
MC
212
56
90
43
Spyglass
Paul Casey
2, T21
T8
189
24
1
75
Spyglass
Kevin Na
DNP, MC
T20
84
90
6
92
Spyglass
(Due to lack of applicable stats, Dustin Johnson's numbers are from 2019)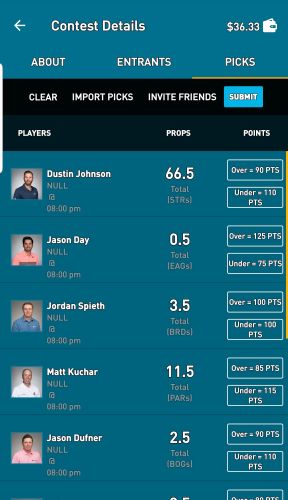 Dustin Johnson - STROKES: 66.5
Johnson is tough to call here, because we don't have a lot of information on his current game. Fortunately for him, he isn't playing Pebble, because he can be very erratic off the tee and that can get him in trouble. I have to play this one safe, though.
PICK: OVER
Jason Day - EAGLES: 0.5
Day is playing the easiest of the three courses, and he may very well snag his eagle on the 1st, which is an incredibly reachable 502-yard Par 5 (NOTE: This hole may be re-tooled to be a Par 4). His other three chances are 40-60 yards longer, but are still very reachable with Day's length.
PICK: OVER
Jordan Spieth - BIRDIES: 3.5
Spieth is once again one of the slower guys out of the gate, so I don't have a lot of confidence in how he'll fare Thursday. We have to keep in mind that these courses are shorter than most of the tracks they play on, and his favorable finishes imply that the courses play to his strengths. Although he'll throw some bogeys into the mix, I'm going to give Spieth the go-ahead here.
PICK: OVER
Matt Kuchar - PARS: 11.5
Pebble and Kuchar have a good relationship and the metrics bear that out. His deadly accuracy off the tee is a necessity here, and the challenge with this pick is measuring how many birdies he'll get - which would offset the par total. It's rumored that they've tinkered with the layout to make it even more difficult than usual.
PICK: OVER
Jason Dufner - BOGEYS: 2.5
Dufner played well in the U.S. Open, but all that tells us is how well he played Pebble. Spyglass is a comparable challenge and a little bit more forgiving for a less accurate driver. Unless a player offsets with some birdies, three bogeys will take you out of the running pretty quickly.
PICK: UNDER
Phil Mickelson - EAGLES + BIRDIES: 3.5
Mickelson loves playing these courses, as he as a bit of a hometown advantage and is very familiar with all three layouts. It would be very difficult to play against him with this metric, and if it were any other tournament, I'd have no issue going the other way.
PICK: OVER
Patrick Cantlay - PARS + BOGEYS: 12.5
I think Cantlay is poised to have a great year, and I don't think we'll see many bogeys from the quick starter. These multi-category picks are difficult, as you're actually measuring birdies, eagles and double-bogeys against this number. Let's assume two Par 5 birdies, a bogey or two on a Par 4 and perhaps one more birdie. Based on those guesses, its an easy pick.
PICK: OVER
Kevin Kisner - STROKES: 67.5
If I'm playing by the numbers, I think this is just too low of a number for Kisner to hit.
PICK: OVER
Paul Casey - BIRDIES: 4.5
Like Day and Mickelson, Casey has a great history here. Five birdies is a tall order - it basically requires Casey to do well on all the Par 5s and find a couple of birdies elsewhere. I'm going to go with course history and his positive metric numbers.
PICK: OVER
Kevin Na - STROKES: 66.5
Na is a streaky player and it's entirely possible that he could pop with a low number. Rather than play with variance, I'll go with the safe pick.
PICK: OVER
The author(s) of this article may play in daily fantasy contests including – but not limited to – games that they have provided recommendations or advice on in this article. In the course of playing in these games using their personal accounts, it's possible that they will use players in their lineups or other strategies that differ from the recommendations they have provided above. The recommendations in this article do not necessarily reflect the views of RotoWire.