Efes at Maccabi
Date: 3/4
Time: 8:15 pm CET
Game Preview
The best game on the Round 27 slate will be one of its last, as first-place Efes heads to Israel to take on a streaking Maccabi squad.
The Turkish team have ran off 11 straight wins, even without MVP frontrunner Shane Larkin playing in the last two contests. Larkin is on track to return to action Wednesday, and so is Bryant Dunston, so Efes should be at full strength. Vasilije Micic complements Larkin with averages of 14.6 points and a team-best 5.9 assists per game. The spectacular backcourt is aided by a deep frontcourt that in addition to Dunston features Tibor Pleiss, Krunoslav Simon and Chris Singleton, all of whom are grabbing at least 4.0 rebounds per game. Efes has outscored opponents by nearly 10 points per game and boasts a plus-256 point differential this season.
The hosts, Maccabi, are a force to be reckoned with in their own right. Outscoring opponents by nearly six points per contest, they boast the fourth-best point differential in the league. The Israeli team is headed by Scottie Wilbekin, a fantastic shooter who is putting up 16.0 points and 3.4 threes per game. Othello Hunter, averaging 10.2 points per contest, and Tyler Dorsey, who's offering 10.0 ppg, have been exceptional complements on offense. Further down the depth chart are Yovel Zoosman, who is back after missing more than a month, and Deni Avdija, who has come on of late.
Maccabi will need to be dialed in for this one as they try to avenge the lopsided 99-79 loss they suffered in Round 16.
Injuries
Anadolu Efes
Bryant Dunston - GTD - Undisclosed
3/1 9:20 PM IST - Dunston saw his first action since November in a domestic league game Sunday and put up three points and six rebounds over 22 minutes. Dunston appeared ready to play a couple weeks ago when he suited up for a EuroLeague game, but he ultimately did not get into a game until the first day of March. It's not certain he will play in Efes' next EuroLeague game after being left off the roster in Round 26, but after taking the court Sunday it seems likely he will.
Shane Larkin - GTD - Ankle
3/3 4:24 PM IST - Larkin (ankle) traveled to Israel with his teammates and is expected to return to action Wednesday against Maccabi, according to Josh Halickman of The Jerusalem Post. Larkin missed Efes' last two EuroLeague games, but it appears his absence is coming to an end. His status will be updated again before tip-off when it is revealed whether or not he will take the court.
Maccabi FOX Tel Aviv
Tarik Black - GTD - Knee
2/17 9:31 PM IST - Black (knee) is expected to resume playing in 2-to-3 weeks, according to Roi Cohen of Sport5. Black's knee injury has kept him on the sidelines since early December, but he has completed the recovery process, and is on the verge of getting back on the court. Given the length of Black's absence, Maccabi will give him a couple weeks to get back into the swing of things before adding him back to the active roster.
Omri Casspi - OUT - Knee
1/19 9:26 PM IST - Casspi will undergo knee surgery this week and appears likely to miss the remainder of the season, Josh Halickman of SportsRabbi.com Maccabi Tel Aviv won't put a timeline on Casspi's recovery until after surgery is performed, but given the nature of the procedure, the forward is likely in store for a multi-month absence. Casspi hasn't seen game action since November due to the injury and will remain in the United States until his surgery is completed.
John DiBartolomeo - OUT - Pectoral
12/6 9:04 PM IST - Dibartolomeo is expected to miss up to six months with a torn mectoral muscle suffered in Thursday's victory over Bayern Munich, according to Maccabi's official website. Dibartolomeo's timeline all but rules him out for the season, and will leave Maccabi without its captain and dependable guard off the bench. His absence – coupled with that of fellow guard Nate Wolters (hip) – figures to open up opportunities for youngsters Yovel Zoosman, Elijah Bryant, and Deni Avdija.
Nate Wolters - OUT - Shoulder
1/25 10:42 PM IST - Wolters is scheduled to undergo surgery in Israel in the near future, TeamScout.net reports. After returning from a multi-week absence due to a hip injury earlier this month, Wolters appeared in three EuroLeague outings for Maccabi FOX Tel Aviv before succumbing to yet another setback on the health front. The Israeli club likely won't provide a projected timeline for Wolters' return until after surgery is completed, but it appears safe to rule him out for the remainder of the season.
Anadolu Efes Probable Starters
G - Vasilije Micic
G - Shane Larkin
F - James Anderson
F - Chris Singleton
C - Tibor Pleiss
Maccabi FOX Tel Aviv Probable Starters
G - Scottie Wilbekin
G - Elijah Bryant
F - Deni Avdija
F - Angelo Caloiaro
C - Othello Hunter
Top Picks
Shane Larkin, IST - Larkin is leading the league in scoring at 22.0 per game. While he should take the court in Round 27 if it remains to be seen if he will play his regular minutes and role after missing a couple games.
Vasilije Micic, IST - While Larkin has received the majority of the attention this season, Micic has been nearly as good. On the whole, he's posting 14.6 points, 2.6 rebounds, 5.9 assists and 1.3 steals per game while shooting 48.1 percent from the field and 40.5 percent from long range.
Scottie Wilbekin, TE, Among the best shooters in the league, Wilbekin has been the offensive focal point all season for Maccabi. Overall, he's averaging 16.0 points, 2.0 rebounds, 3.3 assists, and 3.4 threes per game while drilling 43.4 percent of his shots from distance.
Othello Hunter, TEL - Hunter, who took on a larger role when injuries hit Maccabi's roster, has provided admirable play in the frontcourt all year. He's translated his extra minutes into averages of 10.2 points, a team-high 6.4 rebounds and 1.3 assists per contest.
Captaincy Options
Dream 11 Team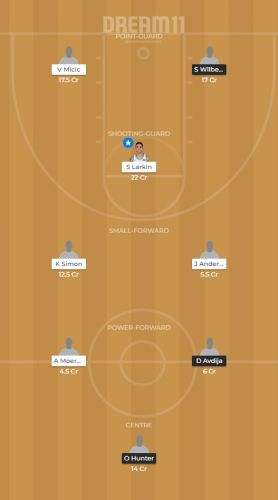 Grand League Combination
Larkin, Micic, Wilbekin, Moerman
Small League Combination
Micic, Wilbekin, Hunter, Simon
The author(s) of this article may play in daily fantasy contests including – but not limited to – games that they have provided recommendations or advice on in this article. In the course of playing in these games using their personal accounts, it's possible that they will use players in their lineups or other strategies that differ from the recommendations they have provided above. The recommendations in this article do not necessarily reflect the views of RotoWire.