Crvena Zvezda at Fenerbahce
Date: 3/4
Time: 6:45 pm CET
Game Preview
A surging Fenerbahce squad that won seven of its last 10 games hosts Crvena Zvezda, who are going in the opposite direction, with losses in seven of the last eight Rounds. Points will be at a premium Wednesday, as Red Star has given up the fewest points in the league and Fenerbahce has allowed less than 100 more.
Led by veteran Nando de Colo, Fenerbahce is coming off a key 93-86 Round 26 win over Valencia. de Colo, in his age-32 season, is averaging 16.5 points, 3.1 rebounds and 3.0 assists per contest, with efficient averages of 51.5 percent from the field and 40.4 percent from three-point range. He's joined by a supporting cast that features fellow guard Kostas Sloukas, forwards Derrick Williams and Luigi Datome and veteran center Jan Vesely. While Sloukas, who is averaging a team-leading 6.1 assists per game this year, is having the best season of the bunch, all appear to be rounding into form before the final quarter of the season.
The visiting team, Red Star, have had a confounding season. Despite having been outscored by just 42 total points on the year, they bear a 10-16 overall record. They lack the star power of Fenerbahce, but the still have four players averaging north of 10 points per game. Kevin Punter, averaging 15.5 points per game this year, leads the charge. Lorenzo Brown, Punter's backcourt mate, is mired in a horrendous shooting slump that's seen him make just 11-of-56 shots over his past five contests. Even with his slump factored in, though, Brown has been the most complete player on the Serbian squad this year with averages of 12.6 points, 3.3 rebounds, 4.5 assists and 1.2 steals per contest. Vladimir Stimac is the frontcourt anchor and Billy Baron and Stratos Perperoglou also provide scoring on the wing.
Red Star toppled the Turkish club by a score of 68-56 when these teams met in Round 2, but the circumstances are far different this time around, and Fenerbahce will be tough to beat on its home court.
Injuries
Crvena Zvezda mts Belgrade
Derrick Brown - OUT - Coach's Decision
12/26 8:14 AM IST - Brown is no longer part of Crvenza Zvezda's EuroLeague roster, according to euroleague.net. The team has not announced anything in regards to Brown's status, according to Mozzart Sport, but with him being replaced on the roster by Kevin Punter, he will not see action in Round 16 and may not play for Crvenza Zvezda again.
Ognjen Dobric - OUT - Finger
2/20 7:58 PM IST - Dobric is expected to miss at least the next four weeks due to a finger injury, Eurohoops.net reports. The shooting guard has filled a minor role in Crvena Zvezda's rotation this season, averaging 5.1 points and 1.7 rebounds in 13.5 minutes per game during EuroLeague. Based on the timeline laid out for his recovery from the injury, Dobric projects to miss at least six EuroLeague matches.
Charles Jenkins - OUT - Undisclosed
3/4 5:33 AM IST - Jenkins (undisclosed) will not play Wednesday against Fenerbahce, according to Crvena Zvezda's official website. Jenkins' injury, the details of which are still unavailable, will prevent him from playing in a third straight EuroLeague game. It could cost him more action, too, with Red Star playing another game just two days after Wednesday's.
Fenerbahce Dogus Istanbul
James Nunnally - OUT - Shoulder
3/4 6:12 PM IST - Nunnally will not play Wednesday against Red Star due to a shoulder injury, according to Fenerbahce's official Twitter account. It's not clear how long Nunnally will be sidelined, but he will be unavailable for Round 27.
Kostas Sloukas - OUT - Knee
3/4 6:11 PM IST - Sloukas will not play Wednesday against Red Star due to a knee injury, according to Fenerbahce's official Twitter account. It's not clear how long Sloukas will be sidelined, but he will be unavailable for Round 27.
Crvena Zvezda mts Belgrade Probable Starters
G - Lorenzo Brown
G - Billy Baron
F - Branko Lazic
F - Marko Jagodic-Kuridza
C - Vladimir Stimac
Fenerbahce Dogus Istanbul Probable Starters
G - Nando de Colo
G - Leo Westermann
F - Derrick Williams
F - Nikola Kalinic
C - Jan Vesely
Top Picks
Nando de Colo, ULK - de Colo has taken the reigns of Fenerbahce's offense in his first year with the club. Through 26 Rounds, he's averaging 16.5 points, 3.1 rebounds and 3.0 assists per game.
Kostas Sloukas, ULK - Sloukas remains one of the best guards in the league and is averaging 11.6 points, 2.8 rebounds, 6.1 assists and 1.4 threes per game. ***Editor's Note – Sloukas has been ruled out for this contest.
Kevin Punter, RED - Since joining the team in Round 16, Punter has tallied double digits in all but one game and is averaging 15.5 points, 1.5 assists and 1.1 rebounds per game.
Vladimir Stimac, RED - Like Punter, Stimac has been one of Red Star's best players since joining the team in the middle of the season. Across 11 appearances with his current team he's posting 11.8 points and 5.6 rebounds per game while shooting 60.7 percent from the field.
Captaincy Options
Dream 11 Team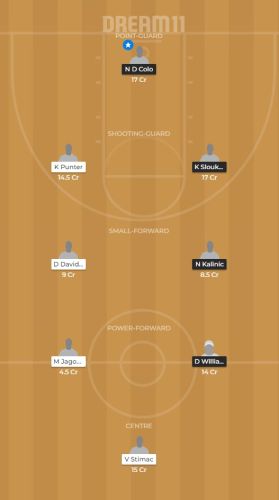 Grand League Combination
Brown, de Colo, Stimac, Williams
Small League Combination
de Colo, Sloukas, Stimac, Punter
The author(s) of this article may play in daily fantasy contests including – but not limited to – games that they have provided recommendations or advice on in this article. In the course of playing in these games using their personal accounts, it's possible that they will use players in their lineups or other strategies that differ from the recommendations they have provided above. The recommendations in this article do not necessarily reflect the views of RotoWire.