Milan at Barcelona
Date: 2/8
Time: 9:30 AM IST
Game Preview
Round 24 concludes with a high-octane matchup between two star-laden playoff hopefuls. AX Armani Exchange, led by star point guard Sergio Rodriguez, will look to reverse a recent negative trend that's seen them drop four of their past five contests and slip to a three-way tie for seventh place overall. They'll look to Rodriguez, who's narrowly missed a double-double in each of his past two outings, to help right the ship. Surrounding him is a supporting cast that includes Vladimir Micov, who's averaging 11.7 points per game and Luis Scola, who's posting 10.1 per contest. Nemanja Nedovic and Keifer Sykes are serviceable scorers who are both candidates to reach double figures. Their opponent, Barcelona, led by the magnificent Nikola Mirotic, is tied with Real Madrid as the second-best team in the league. Their offense has thrived around Mirotic and an interchangeable rotation that currently includes Brandon Davies, Malcolm Delaney and Kyle Kuric, all of whom are exceeding nine points per outing. The matchup gains even more intrigue considering the teams' history this season. As the last undefeated team, Barcelona traveled to Milan for Round 6, losing 83-70 behind a well-coordinated attack from Rodriguez, Micov and Scola.
Injuries
FC Barcelona Lassa
Cory Higgins - GTD - Ankle
2/4 10:22 PM IST - Higgins (ankle) will not play Wednesday against Valencia, according to Catalunya Radio. Higgins did not travel with his teammates for Wednesday's contest, so he will miss a second straight EuroLeague game. His chances of playing in Barcelona's next EuroLeague game Friday against Milan are uncertain.
Kevin Pangos - OUT - Toe
1/26 6:27 AM IST - Pangos (toe) is still not practicing with his teammates, according to Ernest Macia of Catalunya Radio. It was reported earlier this month that Pangos was getting close to playing, but he has apparently not made much progress since then. Unless he is able to get some work in over the next few days, don't expect Pangos to return to action until after January comes to a close.
AX Armani Olimpia Milan
Paul Biligha - OUT - Thigh
2/7 5:05 AM IST - Biligha (thigh) will not play Friday against Barcelona, according to Milan's official website. Biligha was included on Milan's Round 23 roster despite battling a thigh injury, but he ultimately did not take the court. He did not even travel to Spain with his teammates, so he will not see any action in Round 24, either.
Jeff Brooks - GTD - Hamstring
2/7 5:04 AM IST - Brooks (hamstring) could play in Milan's Round 24 matchup with Barcelona, according to Milan's official website. Brooks has resumed practicing with his teammates and traveled to Spain with the rest of his squad, so chances are he will take the court Friday for the first time since Round 18.
Andrea Cinciarini - OUT - Calf
2/7 5:06 AM IST - Cinciarini (calf) will not play Friday against Barcelona, according to Milan's official website. Cinciarini's calf injury will prevent him from playing in a third straight EuroLeague game. It's not clear how much longer he will be sidelined, but he was able to take part in a domestic league game before missing both EuroLeague games on Milan's schedule this week.
Riccardo Moraschini - OUT - Leg
1/20 9:21 PM IST - Head coach Ettore Messina said Sunday that Moraschini (hamstring) will be out at least through the Italian Basketball Cup in mid-February, according to Sportando. It was previously announced that Moraschini would miss several weeks with his injury, and his return timeline is now a bit more in focus. He could return to action before February ends, but it remains to be seen if he will have made enough progress in his recovery by then.
AX Armani Olimpia Milan Probable Starters
G - Sergio Rodriguez
G - Michael Roll
F - Vladimir Micov
F - Luis Scola
C - Kaleb Tarczewski
FC Barcelona Lassa Probable Starters
G - Malcolm Delaney
G - Kyle Kuric
F - Victor Claver
F - Nikola Mirotic
C - Brandon Davies
Top Picks
Nikola Mirotic, BAR - Mirotic sits fourth overall in the league in scoring, averaging 18.8 points, 7.0 rebounds and 1.4 assists per night. He was held to 13 points on four-of-10 shooting the last time the teams met.
Sergio Rodriguez, MIL - Milan's veteran leader, Rodriguez's totaled 22 points, 19 assists, four rebounds and three steals over the past two Rounds. He fueled their Round 6 win, scoring nine points in the last two minutes of regulation.
Vladimir Micov, MIL - Micov is a steady complement to Rodriguez in Milan's backcourt. On the year, he's averaging 11.7 points, 3.0 rebounds, 2.2 assists and 1.6 threes per game.
Malcolm Delaney, BAR - Delaney runs Barcelona's backcourt with his pinpoint passing and strong outside shot. On the year, he's posting averages of 9.5 points, 5.0 assists, 2.7 rebounds and 2.0 threes per contest.
Captaincy Options
Dream 11 Team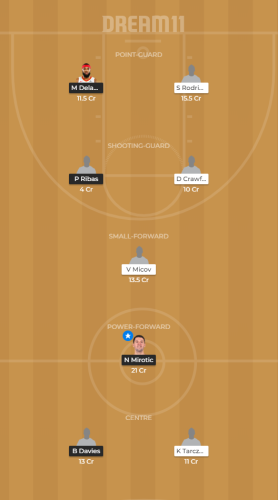 Grand league combination:
Mirotic, Rodriguez, Davies, Crawford
Small league combination:
Mirotic, Rodriguez, Micov, Delaney
The author(s) of this article may play in daily fantasy contests including – but not limited to – games that they have provided recommendations or advice on in this article. In the course of playing in these games using their personal accounts, it's possible that they will use players in their lineups or other strategies that differ from the recommendations they have provided above. The recommendations in this article do not necessarily reflect the views of RotoWire.