Fenerbahce at Zenit
Date: 2/5
Time: 6:00 pm CET
Game Preview
Fenerbahce, a team in the heat of the battle for a playoff spot, travels to Saint Petersburg to take on an injury-riddled Zenit team, that's won three of their past five contests. The visitors rally behind their consummate star, Nando de Colo, who's contributing 17.9 points, 3.2 rebounds and 2.8 assists per game on the season. He's aided by an ensemble of talented players, including the veteran point guard Kostas Sloukas, who's averaging 11.5 points and 6.8 assists this year, Derrick Williams, who's chipping in 11.0 points and Luigi Datome and Jan Vesely, who's reached double figures in three of the past four Rounds. Their opposition, Zenit, has been decimated by injuries and is currently without important rotational pieces in Alex Renfroe, Colton Iverson and Mateusz Ponitka, who have all been ruled out for Wednesday's contest. Without those three, Zenit'll rely on the frontcourt due of Gustavo Ayon and Will Thomas as well as streaky-shooting Andrew Albicy to power the offense. While Zenit's myriad injuries and poor 7-15 overall record cast them in the underdog role, they triumphed in the teams' previous meeting, notching an 84-81 victory in Round 15. Since then, however, Fenerbahce's won five-of-seven games and has crept within a game of the final playoff spot.
Injuries
Zenit Saint Petersburg
Colton Iverson - OUT - Hand
2/1 10:44 PM IST - Iverson will miss the next two weeks due to a hand injury. Iverson apparently suffered a hand injury during Zenit's Round 22 loss to Barcelona. While details surrounding the issue remain limited, don't expect to see Iverson on the court until at least Round 25. In his place, Anton Pushkov and Sergei Balashov figure to see increased workloads.
Dmitry Khvostov - OUT - Ankle
2/4 9:53 PM IST - Khvostov (ankle) will not play Wednesday against Fenerbahce, according to eurohoops.net. Khvostov continues working his way back from an ankle injury and will miss a fifth consecutive EuroLeague game. He has not been ruled out for his club's Round 24 matchup with Panathinaikos, but with that game coming just two days after Wednesday's, his chances of taking the court aren't promising.
Mateusz Ponitka - OUT - Ankle
1/27 10:01 PM IST - Ponitka will miss the next six weeks after suffering ligament damage to his ankle joint. Pontika will presumably undergo an operation to repair the lingering ankle issue that had caused him to miss Zenit's Round 21 matchup with Olympiacos. His extended absence will have significant effects on the team's rotation, with either Tim Abromaitis or Andrey Zubkov likely being called upon to slide into the starting five. Moreover, Will Thomas could be counted on to take on a larger role offensively. Barring a setback, Ponitka can be expected to return at some point during the middle of March.
Alex Renfroe - OUT - Knee
2/1 10:48 PM IST - Renfroe suffered a knee bruise and will be held out up to 20 days. Renfroe was forced to exit Zenit's Round 22 loss to Barcelona after just eight minutes upon suffering the knee bruise. The team expects him to miss up to 20 days, which effectively ruled him out until its Round 25 matchup against ALBA Berlin. Renfroe is playing 19 minutes per game this season, so his absence will give Zenit's other guards a chance to play more minutes in the two EuroLeague games the club will play next week.
Fenerbahce Dogus Istanbul
Joffrey Lauvergne - OUT - Personal
2/4 8:04 PM IST - Lauvergne will not play Wednesday against Zenit for personal reasons, according to eurohoops.net. Lauvergne was on the roster but did not take the court in his club's last two EuroLeague games, and he will not sure action in a third straight game while tending to a family matter.
Fenerbahce Dogus Istanbul Probable Starters
G - Nando de Colo
G - Kostas Sloukas
F - Derrick Williams
F - Nikola Kalinic
C - Jan Vesely
Zenit Saint Petersburg Probable Starters
G - Evgeny Voronov
G - Austin Hollins
F - Tim Abromaitis
F - Andrey Zubkov
C - Gustavo Ayon
Top Picks
Nando de Colo, ULK - de Colo's averaging 17.9 points per game, good for fifth individually in the league. He's an efficient shooter, who's drilling 53.1 percent of his field goals and 41.0 percent of his threes this year.
Gustavo Ayon, DYR - Ayon provides strong interior play for Zenit and is hitting 58.2 percent of his shots this season. On the whole, he's generating 12.2 points, 5.4 rebounds, 2.1 assists and 1.2 steals per game.
Kostas Sloukas, ULK - Sloukas has reached double figures in each of his past 11 appearances. Overall this season, he's posting 11.5 points, 6.8 assists, 3.0 rebounds and 1.0 steals per game.
Will Thomas, DYR - Another serviceable inside piece for Zenit, Thomas' offering 10.4 points, 4.1 rebounds, 1.2 assists and 1.0 steal per contest. He's reached double digits on 11 occasions so far.
Captaincy Options
Dream 11 Team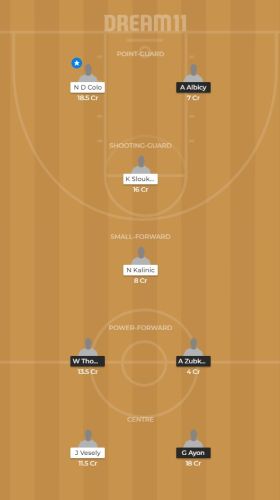 Grand league combination:
de Colo, Ayon, Sloukas, Albicy
Small league combination:
de Colo, Ayon, Sloukas, Thomas
The author(s) of this article may play in daily fantasy contests including – but not limited to – games that they have provided recommendations or advice on in this article. In the course of playing in these games using their personal accounts, it's possible that they will use players in their lineups or other strategies that differ from the recommendations they have provided above. The recommendations in this article do not necessarily reflect the views of RotoWire.