Milan at Fenerbahce
Date: 1/24
Time: 6:45 PM CET
Game Preview
Milan ventures to Istanbul to take on Fenerbahce in a Round 21 matchup with important playoff implications. The visitors currently sit in a tie for seventh place and hold a tenuous one-game lead for the last playoff spot over Crvena Zvezda and Khimki. Their opponent, Fenerbahce, sits two games out of the last spot but has won three of four after a poor start to the season. Leading Milan is the tandem of Sergio Rodriguez and Vladimir Micov. Rodriguez, in his age 33 season, leads the team in all of points, assists, steals and threes. Micov, meanwhile, is second on the team in scoring and is shooting the ball well from downtown. Featured in support of the Rodriguez and Micov are stalwart veteran Luis Scola, who's scoring 10.1 points per game, and newcomer Keifer Sykes, who's scoring 10.5 points per game in his four games with the team. Fenerbahce is led by dynamic scorer Nando de Colo, who's putting up 18.8 points per game while shooting an efficient 54.5 percent from the field and 41.3 percent from behind the arc. He's complemented by forward Derrick Williams, who's generating 11.9 points per contest, and point guard Kostas Sloukas, who's adding 11.8 points and a team-leading 6.8 assists per game. Powered by Rodriguez's 22 points, Milan won the previous matchup between these two teams in Round 4. Fenerbahce will have revenge on its mind, but both teams clearly have a lot to play for.
Injuries
AX Armani Olimpia Milan
Jeff Brooks - OUT - Hamstring
1/20 9:13 PM IST - Brooks (hamstring) will be out at least a couple more weeks, according to Sportando. Brooks missed both EuroLeague games Milan played last week as a result of his injury, and it now appears he will be out until sometime in February.
Riccardo Moraschini - OUT - Leg
1/20 9:21 PM IST - Head coach Ettore Messina said Sunday that Moraschini (hamstring) will be out at least through the Italian Basketball Cup in mid-February, according to Sportando. It was previously announced that Moraschini would miss several weeks with his injury, and his return timeline is now a bit more in focus. He could return to action before February ends, but it remains to be seen if he will have made enough progress in his recovery by then.
Fenerbahce Dogus Istanbul
Ahmet Duverioglu - GTD - Undisclosed
1/16 10:15 PM IST - Duverioglu is not on the roster for Thursday's game against Barcelona, according to Fenerbahce's official Twitter account. Either because of the ankle injury he dealt with recently or because there aren't currently enough spots on Fenerbahce's active roster, Duverioglu will not play for the second time in as many games this week.
AX Armani Olimpia Milan Probable Starters
G - Sergio Rodriguez
G - Nemanja Nedovic
F - Vladimir Micov
F - Luis Scola
C - Kaleb Tarczewski
Fenerbahce Dogus Istanbul Probable Starters
G - Nando de Colo
G - Leo Westermann
F - Derrick Williams
F - Luigi Datome
C - Malcolm Thomas
Top Picks
Nando de Colo, ULK - de Colo sits fourth in the EuroLeague in scoring at 18.8 points per contest. He's fueling his impressive offensive performances with incredibly efficient shooting, making 54.5 percent of his shots from the field, 41.3 percent of his three-pointers and 96.9 percent of his free throw attempts. He's also fifth in the league in Index Rating with a mark of 19.4.
Sergio Rodriguez, MIL - The veteran point guard is one of the most complete players in the league. On the season, he's posting averages of 13.2 points, 2.3 rebounds, 4.8 assists, and 2.1 threes in 25.1 minutes per contest.
Derrick Williams, ULK - Williams has provided impressive complementary numbers in his first year with Fenerbahce. In 27.8 minutes per game, he's managing 11.9 points, 4.3 rebounds, 1.3 assists, and 1.4 steals.
Vladimir Micov, MIL - Micov is not scoring as much as he did last season, but he's still averaging 11.5 points, 3.2 rebounds and 2.0 assists while shooting 46.2 percent from the field and 42.6 percent from distance.
Captaincy Options
Dream 11 Team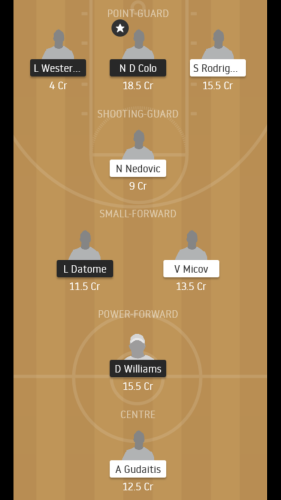 Grand League Combination
de Colo, Rodriguez, Williams, Gudaitis
Small League Combination
de Colo, Rodriguez, Sloukas, Micov
The author(s) of this article may play in daily fantasy contests including – but not limited to – games that they have provided recommendations or advice on in this article. In the course of playing in these games using their personal accounts, it's possible that they will use players in their lineups or other strategies that differ from the recommendations they have provided above. The recommendations in this article do not necessarily reflect the views of RotoWire.