Milan at Maccabi Tel Aviv
Date: 1/16
Time: 8:05 PM CET
Game Preview
The final game on Wednesday's schedule pits two of the top point guards in the EuroLeague against each other in a battle that could have postseason implications. Visiting Milan, despite a negative-35 point differential on the season, sits in sixth place overall with a 10-9 record. They're led by Sergio Rodriguez, a dynamic point guard who is averaging 13.4 points and 5.0 assists while shooting a stellar 39.6 percent from behind the arc this season. Flanking Rodriguez are Vladimir Micov, who's offering 11.7 points per contest, and veteran forward Luis Scola, who's contributing 10.4 ppg in his 24th professional season. Milan's opponent, Maccabi, situates its offense around Scottie Wilbekin, who is the only member of the team scoring in double figures. For support, Wilbekin has a well-balanced group of role players that includes eight teammates who are averaging better than 7.0 points per contest. Over the past four games, this group assembled the league's fourth-best offense, averaging 83.5 points per game in that span. Despite Maccabi holding the edge in nearly every statistical category, Milan triumphed last time these two teams matched up in Round 9, winning a hard-fought 92-88 victory behind a double-double from Rodriguez.
Injuries
AX Armani Olimpia Milan
Jeff Brooks - OUT - Hamstring
1/13 9:54 PM IST - Coach Ettore Messina said Monday that Brooks recently sustained a right hamstring injury and will be out for at least 10 days before Olimpia Milano re-evaluates him, Eurohoops.net reports. With that 10-day timeline in mind, Brooks can safely be ruled out for Tuesday's Round 19 game against Anadolu Efes, as well as Thursday's Round 20 matchup with Maccabi FOX Tel Aviv. The forward also seems unlikely to make it back for the Round 21 game versus Fenerbahce on Jan. 24, but the team will re-examine him first before deciding on his status for that contest. Brooks is averaging 4.8 points, 4.9 rebounds and 1.1 assists in 22.6 minutes per game over his 15 EuroLeague outings this season.
Riccardo Moraschini - OUT - Leg
1/13 9:58 PM IST - Coach Ettore Messina said Monday that Moraschini pulled the medial twin muscle in his left leg and will be re-evaluated in the weeks to come, Eurohoops.net reports. Though Mettore wasn't willing to put a definitive timeline on Moraschini's return, the coach's comments suggest the 6-foot-4 guard will likely be sidelined for at least the next three rounds of EuroLeague games. If that's the case, Moraschini's earliest chance to return to EuroLeague action would come Jan. 30, when Olimpia Milan takes on Bayern Munich. Moraschini is averaging just 3.1 points and 1.9 rebounds in 11.7 minutes per game over 15 EuroLeague outings, so he won't represent a major loss for the Italian squad.
Maccabi FOX Tel Aviv
Tarik Black - OUT - Knee
1/10 10:57 PM IST - Black will not require surgery on his injured knee and is expected to return to action in eight weeks, according to teamscout.net. While it's good news that Black will not go under the knife, it will still be a while before he is ready to get back on the court. If all goes well, though, he will still return to action at some point before the regular season ends. Expect Othello Hunter to continue holding down the starting center spot in Black's absence.
Omri Casspi - OUT - Knee
1/14 12:04 AM IST - Casspi has traveled to the United States for further evaluation of his injured knee, according to eurohoops.net. It was reported last week that Casspi may need surgery to repair his injured knee, and that's likely what his latest trip to the doctor will determine. Casspi is expected to return to Israel in about 10 days, but it remains to be seen if he will be ready to play at that time.
John Dibartolomeo - OUT - Pectoral
12/6 9:04 PM IST - Dibartolomeo is expected to miss up to six months with a torn mectoral muscle suffered in Thursday's victory over Bayern Munich, according to Maccabi's official website. Dibartolomeo's timeline all but rules him out for the season, and will leave Maccabi without its captain and dependable guard off the bench. His absence – coupled with that of fellow guard Nate Wolters (hip) – figures to open up opportunities for youngsters Yovel Zoosman, Elijah Bryant, and Deni Avdija.
AX Armani Olimpia Milan Probable Starters
G - Sergio Rodriguez
G - Nemanja Nedovic
F - Vladimir Micov
F - Luis Scola
C - Kaleb Tarczewski
Maccabi FOX Tel Aviv Probable Starters
G - Scottie Wilbekin
G - Yovel Zoosman
F - Elijah Bryant
F - Quincy Acy
C - Othello Hunter
Top Picks
Scottie Wilbekin, MTA - Maccabi's ace has posted season-long averages 16.2 points, 3.4 threes, 3.2 assists, 1.9 rebounds and 1.4 steals per game. He dropped 25 points and five assists the first time these two team played each other this season.
Sergio Rodriguez, AXE - Olympia's star guard leads the squad in points, assists, threes and steals. He generated 18 points and 11 assists during the teams' previous meeting in Round Nine.
Vladimir Micov, AXE - Micov is a more-than-adequate complementary piece for Milan. The veteran is registering averages of 11.7 points, 3.1 rebounds and 2.0 assists while drilling 47.0 percent of his shots from the field and 41.4 percent of his looks from behind the arc.
Luis Scola, AXE - The 38-year-old forward continues to chug away despite his age. He's averaging 10.4 points and 5.1 rebounds per game and posted a season-high 20 points last time he took on Maccabi.
Captaincy Options
Dream 11 Team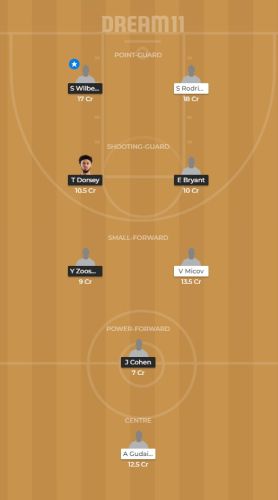 Grand League Combination
Wilbekin, Rodriguez, Micov, Gudaitis
Small League Combination
Wilbekin, Rodriguez, Micov, Hunter
The author(s) of this article may play in daily fantasy contests including – but not limited to – games that they have provided recommendations or advice on in this article. In the course of playing in these games using their personal accounts, it's possible that they will use players in their lineups or other strategies that differ from the recommendations they have provided above. The recommendations in this article do not necessarily reflect the views of RotoWire.