Baskonia at Zenit
Date: 1/15
Time: 6:00 PM CET
Game Preview
Two of the EuroLeague's most impressive power forwards will square off when Baskonia heads to Russia to take on Zenit. Representing Baskonia is veteran Tornike Shengelia, who has starred for the Spanish team since 2015 and is averaging 16.9 ppg. He's flanked by a supporting cast that includes Nik Stauskas – second on the team in scoring at 9.4 points per contest – and Pierria Henry, who's offering a well-rounded line of 7.6 points, 3.6 rebounds, 3.3 assists and 1.5 steals per game. They're opposed by a Zenit team that recently suffered the loss of star forward Gustavo Ayon, who is out indefinitely with a hip injury. Will Thomas helped fill in last week and exploded for 20 points and eight rebounds in Zenit's Round 18 win over Khimki, their first game without Ayon. While Thomas figures to be the focal point of the offense, he'll be helped by Austin Hollins, who's scoring 10.1 points per game, and Mateusz Ponitka, who's generating 9.7 points per contest. These two teams faced each other in Round 10 and Baskonia came away with a 70-60 victory.
Injuries
Kirolbet Baskonia
Patricio Garino - OUT - Knee
11/24 12:28 AM IST - Garino has been diagnosed with a torn ACL in his right knee. Garino left Friday's game and was sent to the hospital. It's been determined that he tore his ACL and that surgery is needed.
Jayson Granger - OUT - Achilles
10/1 3:36 AM IST - Granger will miss six months with a torn Achilles tendon, according to euroleague.net. Granger was injured in Baskonia's Spanish League opener, and will face a lengthy recover period after undergoing surgery. Assuming his recovery goes as planned, he should be able to rejoin Baskonia at some point during the second half of their season.
Luca Vildoza - OUT - Shoulder
1/14 9:06 PM IST - Vildoza (shoulder) did not travel with his teammates for Baskonia's Round 19 and 20 games in Russia, according to Sergio Vegas of Radio Vitoria. Vildoza was not expected to play in either EuroLeague game on Baskonia's schedule this week, and this report confirms he will not do so. His next chance to play will come in Round 21 against Khimki, but it remains to be seen if he will be ready to take the court.
Zenit Saint Petersburg
Gustavo Ayon - OUT - Hip
1/7 11:33 PM IST - Ayon suffered a hip injury in a domestic league game Monday and has been ruled out indefinitely, according to Zenit's official Twitter account. This is a key loss for Zenit, as Ayon has been a key cog for his team so far this season. He was averaging 12.8 points, 5.6 rebounds and 2.2 assists over 16 games (six starts). A timetable for his return has yet to surface, though it's safe to assume he won't take the court in Round 18 against Khimki.
Dmitry Khvostov - OUT - Ankle
1/15 2:28 AM IST - Khvostov will miss time after suffering an ankle injury at Tuesday's practice, according to Zenit's official Twitter account. It's not clear how long Khvostov will be sidelined, but the report indicates he will miss both EuroLeague games on Zenit's schedule this week. As such, his next chance to play will come in Round 21 against Olympiacos.
Kirolbet Baskonia Probable Starters
G - Pierria Henry
G - Matt Janning
F - Shavon Shields
F - Tornike Shengelia
C - Micheal Eric
Zenit Saint Petersburg Probable Starters
G - Evgeny Voronov
G - Andrew Albicy
F - Mateusz Ponitka
F - Will Thomas
C - Colton Iverson
Top Picks
(C) Tornike Shengelia, BAS - Baskonia's star is averaging a career-high 16.9 points per game and is complementing that with 6.0 rebounds, 2.2 assists and 1.5 threes. In addition to being the team's leading scorer and all-around best player, Shengelia is drilling a team-leading 43.5 percent of his triples.
Will Thomas, ZEN - Thomas reached double figures in each of his past three contests, including the big game in Round 18. With Zenit lacking scoring options in Ayon's absence, Thomas could again be called upon to shoulder a large chunk of the offense.
Austin Hollins, ZEN - Hollins has stepped up of late, having scored at least 14 points in each of his past three EuroLeague contests. The 28-year-old is one of Zenit's best three-point shooters, drilling 1.9 threes per game at a 37.1 percent clip.
Pierria Henry, BAS - Apart from Shengelia, Henry accounts for the most well-rounded statistical line. Notably, over the past two games, he totaled 10 steals to go along with 26 points, nine rebounds, eight assists and six threes.
Captaincy Options
Dream 11 Team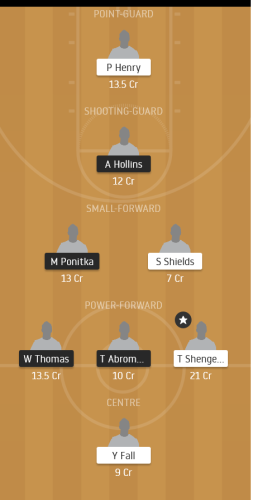 Grand League Combination
Shengelia, Thomas, Ponitka, Shields
Small League Combination
Shengelia, Thomas, Henry, Hollins
The author(s) of this article may play in daily fantasy contests including – but not limited to – games that they have provided recommendations or advice on in this article. In the course of playing in these games using their personal accounts, it's possible that they will use players in their lineups or other strategies that differ from the recommendations they have provided above. The recommendations in this article do not necessarily reflect the views of RotoWire.