On Monday it was announced that Ross would miss the upcoming season after an X-ray revealed that he has congenital fusion. Clemson beat writer Grace Raynor of The Athletic does a great job laying out the details of the situation here.
Ross' overall health and quality of life is the most important thing regardless of whether he suits up again. But Raynor's third tweet suggests that Ross' playing days might not be over, either. Whether it's in a Clemson uniform again or in the NFL, the fact remains that Ross won't be on the field in 2020, and that is a seismic development.
Let's look at how this impacts Clemson's receiving corps, Trevor Lawrence, and the entire wide receiver landscape for fantasy.
Clemson's Receiving Corps
Ross led the team in target share in 2019 despite missing a game and was likely due for an even bigger piece of the pie this year with Tee Higgins gone. Given the relative lack of production or market share from the rest of the receivers, Ross being gone is like pulling a weight-bearing Jenga piece from the bottom of the tower.
Now, I don't think this Clemson passing game will implode; as long as Trevor Lawrence is there, it will be good. But we need to examine what the fallout looks like in that wide receiver room.
First up is Amari Rodgers. The 5-foot-10 is best suited for slot work, and while he's the most accomplished and experienced of the remaining Clemson receivers, expecting him to replace Higgins or Ross' production 1:1 is unrealistic. However, Rodgers still likely projects as the first Clemson receiver to target in drafts. He has the clearest path to targets and had promising production with his role last season despite coming back from a spring practice ACL injury. He caught 75 percent of his targets at over 10.0 YPT and he scored on 10 percent of his targets. Just because he's in the slot doesn't preclude him from being Clemson's top producer. But that still doesn't answer the question of how Clemson replaces Higgins and now Ross on the outside.
Fortunately, and you may have heard this before, Clemson recruits pretty well, especially at receiver. That was the case with its 2019 receiver haul that included Joe Ngata and Frank Ladson, both of whom ranked in the top 10 among players at their position. And they're both 6-foot-3. Ladson was the slightly more touted recruit but it was Ngata who made the bigger impact as a freshman.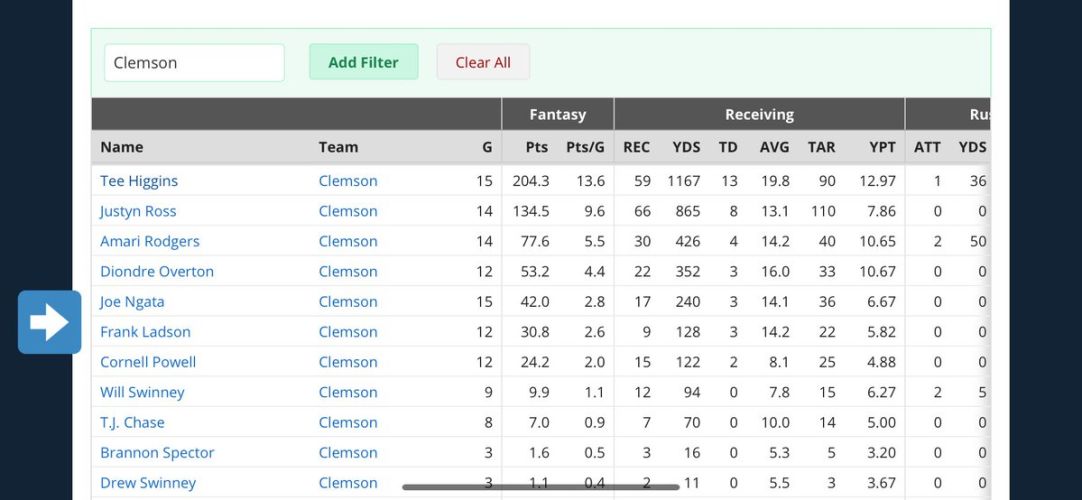 Ngata had more targets but both were ineffective on a per-target basis and had the same amount of explosiveness per-catch. In other words, there's not much separating these two right now. I'd give a slight edge to Ngata being higher in the pecking order than Ladson, but there's a real shot that the two of them take over for Ross and Higgins on the outside now that Ross is on the shelf.
Ngata may be elevated from sleeper to a top 10 round consideration but Ladson shouldn't be considered to be that far behind him at this stage. An underwhelming 22-target sample as a freshman shouldn't override all the promise Ladson brings to the table.
Beyond Ngata and Ladson, I'll throw one more name out there as a potential impact player on the outside: E.J. Williams. A four-star early enrollee from the same high school as Justyn Ross in Phenix City, Alabama, Williams brings size (6-foot-3) and explosiveness. If he's a quick study, Williams could challenge one of Ngata or Ladson for snaps and targets before long. Keep him on your watch lists.
Lawrence is a rare talent. You know that. I know that.
Lawrence could elevate a mediocre group of receivers from another school and still put up numbers and rack up wins. But his powers will be put to the test this year and there's no way around it. As you saw above, Clemson has to replace 40 percent of its targets and 47 percent of its receiving yards with Higgins and Ross out of the picture. That's a challenge for even a Lawrence-level talent.
Lawrence completed 65.8 percent of his passes with a 9.0 YPA and an 8.8 percent touchdown rate last year. Will he be able to sustain, let alone improve upon, that efficiency without Higgins and Ross? With the talented, albeit unproven, supporting cast around him on top of his own development as a third-year starter, there's reason to believe that Lawrence can make that happen.
Lawrence went in the fifth round as QB11 in a recent industry best ball draft, going behind Brock Purdy and ahead of Jayden Daniels. I'd still like Lawrence in that range even with Ross gone, and It wouldn't be shocking to see him sink closer to the QB12-15 range. I had no shares of Lawrence through three drafts this offseason, but if there's a discount on him in the wake of all of this, I'm buying.
Receiver Landscape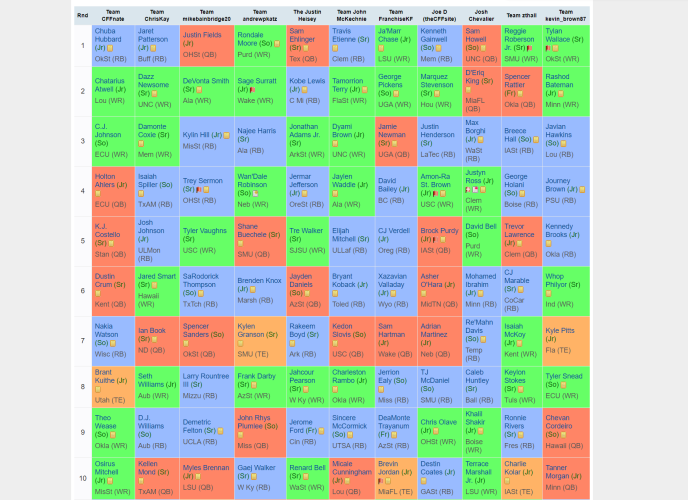 *Receivers labeled in green
Ross went as WR17 in the aforementioned draft as part of a tier that included Amon-Ra St. Brown, Jaylen Waddle, and Wan'Dale Robinson. With Ross out for the season, the crop of elite receivers shrinks a bit. Tre Walker, Tyler Vaughns, and David Bell could all see slight bumps as a result of this. But as you can see, there was a fairly big drop-off after Bell with only three receivers going in the next two rounds. I foresee that next tier of receivers that includes Tyler Snead, Charleston Rambo, Seth Williams, and others seeing some draft-day inflation now that the receiver market has shifted.
As for Rodgers, well, he won't be available in the 25th round anymore after this like he was in May. Will he climb up to where Ross was going, though? I wouldn't go that far, even with coronation as the new No.1 target in the Clemson offense. He doesn't offer the same touchdown upside as other players going in that tier. If Rodgers makes it up to the WR20 range, I'll be light on shares. But if he settles into a more realistic tier like the Rambo-Snead one, I'd be more likely to consider him.
With Ngata and Ladson, I expect both of them to creep into the top 20 rounds of drafts. My initial read on the fallout is that Ngata will be the higher pick, and I can get behind that. But if there ends up being a huge separation between the two where Ngata is going in the 12th and Ladson is going in the 18th, I'll be the one scooping all the Ladson at that price. It's not to say Ngata isn't worth a 12th or even a little higher, I'm just not seeing the evidence that he's six rounds better when there's such little sample to base that valuation.