As the NBA's return to play draws near, Alex Barutha and Nick Whalen explore one major question facing each of the 22 teams heading to Orlando.
Los Angeles Lakers
Other than LeBron James and Anthony Davis, who can be trusted on offense?
The Lakers have surrounded LeBron and AD with quality three-and-D options, and that's led to the league's sixth-best offensive and third-best defense. But what the Lakers failed to find was a trustworthy third option, which is one of the stark differences between them and the Clippers. Lou Williams and Montrezl Harrell allow Kawhi Leonard and Paul George to take plays off. Who does the same for LeBron and Davis?
The Lakers struggle to generate offense outside of those two is reflected in the team's relatively poor halfcourt offense. The Lakers score 95.4 points per 100 halfcourt possessions, ranking 15th in the NBA and second worst among Western Conference playoff teams (fourth worst among all playoff teams). Forcing shots away from LeBron and AD, while obviously a huge challenge, drives shots toward Kyle Kuzma (10.9 FGA), Avery Bradley (7.8 FGA) and Kentavious Caldwell-Pope (7.4 FGA), which can easily end in disaster.
As transition defense tightens up in the playoffs, the Lakers will likely have fewer opportunities to catch teams off guard in the open court, where their offense thrives. To take down the Clippers in a series, finding consistent halfcourt offense will be the key.
Memphis Grizzlies
Can the Grizzlies hang on to the eighth seed?
This is probably the most straightforward question facing any bubble team, but the race for the eighth seed in the West is one of the main storylines of the resumed season, and Memphis is the incumbent. Memphis was given a preseason over/under of 27.5 wins – fifth lowest in the NBA – which they cleared on Feb. 12.
The Grizzlies exceeded expectations largely in part to Ja Morant exceeding expectations. He's on pace to win Rookie of the Year, averaging 17.6 points on 13.6 shots, 6.9 assists to 3.2 turnovers, 3.5 rebounds and 1.2 combined steals-plus-blocks. Rookie Brandon Clarke was also a nice surprise, currently ranking fourth in the league in true-shooting percentage (67.1) and sixth in offensive rating (128.6). Dillon Brooks, Jaren Jackson and Jonas Valanciunas were also great contributors, with the trio combining for 47.5 points (5.0 threes), 19.2 rebounds, 5.2 assists, 3.1 blocks and 2.0 steals.
As well as Memphis has played, it's difficult to make the argument that they're as talented as Portland or New Orleans – the two main challengers for the playoffs in the West. The Grizzlies don't have the best player at any of the five positions. The challenge of hanging onto the eighth seed should be a good challenge for the Grizzlies' young core, and facing the Lakers in the first round could also provide valuable experience (though likely a swift death). Missing the playoffs and getting a better draft pick would also be valuable in its own right.
Milwaukee Bucks
Which version of Eric Bledsoe will show up in Orlando?
Last season's collapse against Toronto in the Conference Finals was a team effort, but – fairly or not – no player shouldered more of the blame than Bledsoe. It didn't help that Milwaukee's starting point guard was coming off of a similarly rough postseason a year earlier, when he was thoroughly, and very publicly, outplayed by Terry Rozier in a seven-game loss. During the six-game series against the Raptors, Bledsoe scored in single-digits four times. For the series, he shot under 30 percent from the floor, including a ghastly 17 percent (5-of-29) from three.
Once again, Bledsoe is coming off of a strong regular season for the league's best team, reproducing his 2018-19 stat line nearly identically, while remaining on the short list for one of the four guard spots on the All-Defense teams. Partially due to the Bucks' propensity for blowing out inferior teams, and partially as a means of keeping him fresh for what was expected to be another deep playoff run, Bledsoe averaged just 27.2 minutes per game. Both his three-point and free throw percentages ticked upward, and he had his best stretch of the season around the All-Star break, just before the league shutdown on Mar. 11.
By the time the Bucks play a truly meaningful game, more than five months will have passed. While the entire league will have no choice but to adjust to a new reality, the same doubts that Bledsoe would've faced in May and June will follow him to Orlando. Even in a muted, fan-less environment, if the lights prove to be too bright, how long will Mike Budenholzer be willing to extend his leash? With Malcolm Brogdon no longer around, George Hill is the fall-back option. And while Hill has proven steady in that role, it's more than fair to question whether the Bucks can reach the ultimate summit without their third-best player finally breaking through.
Miami Heat
Will this be Bam Adebayo's national coming out party?
Jimmy Butler may be the Heat's most important player, but their best player this season is Adebayo. A first-time All-Star and the betting favorite for the Most Improved Player award, Adebayo is on pace to become the first player in franchise history to average at least 10.0 rebounds and 5.0 assists per game. He's also adding 16.2 points (on 57% FG) per game, while functioning as one of the league's most versatile defenders.
Adebayo's best performances – a 30-11-11 triple-double on Dec. 12; a 28-19-7-3-1 line on Feb. 20 – are head-turning, but to the everyday fan he's yet to reach star status. With all eyes trained on the league in Orlando, Adebayo will have an opportunity to raise his profile – especially if Miami is able to get out of Round 1 and put a scare into Toronto or Milwaukee.
This will also be Miami's chance to showcase Adebayo as the future centerpiece of a franchise that's been open about its desire to load up around him. Butler is under contract through 2023, and Adebayo will soon be due a hefty raise, but with other big salaries set to come off the books, the Heat are positioned to make a run at another star talent.
San Antonio Spurs
Will the focus be on player development?
LaMarcus Aldridge underwent shoulder surgery June 8 and will not be joining the 27-36 Spurs in Orlando. San Antonio probably didn't have much of a chance to make the playoffs anyway, but they were competitive enough not to get locked out of Disney World. So...what will they be doing there?
DeMar DeRozan is in the midst of one of his best seasons, but is he capable of dragging this team into the postseason, and does he really want to? The relationship between DeRozan and the Spurs seems like an arranged marriage that neither can afford to get out of until next year.
By all accounts, we should expect DeRozan to play, but will the focus be on getting experience for the young core and improving draft position? This is an unexpected opportunity to see what Dejounte Murray is capable of as a true starting point guard and get a feel for how Bryn Forbes, Derrick White, Trey Lyles, Jakob Poeltl and Lonnie Walker might play into long-term plans. It's a largely uninspiring group, but that's all the more reason to let them loose.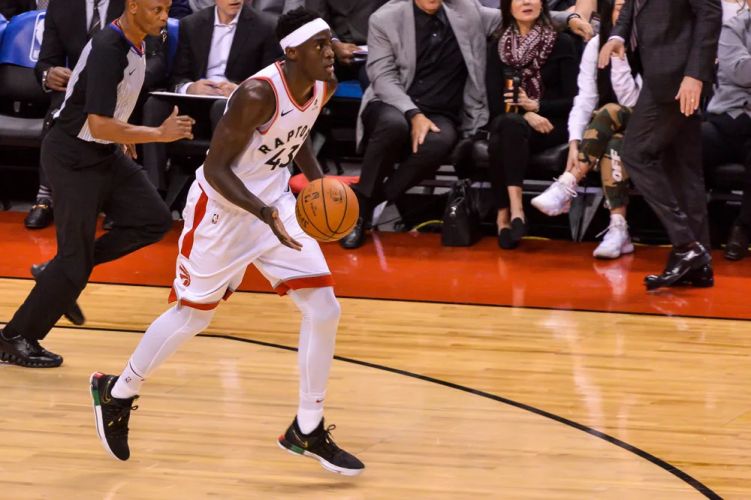 Toronto Raptors
What constitutes a successful playoff run?
In losing Kawhi Leonard following a one-year stint that resulted in a title, the Raptors found themselves in one of the most unique positions in the history of the league to begin this season. Still managing to claim the No. 2 spot in the Eastern Conference makes it even more unique. So how do we define a successful playoff run for this team?
The Raptors will basically get a free pass into Round 2 after playing either the Nets or Magic. From there, they'll be facing off against teams with a similar level of top-end talent. Toronto hasn't been particularly effective against top teams in the regular season. Against opponents with a top-10 point differential, the Raptors rank 14th in net rating (-4.0). That's below Eastern Conference teams like Boston (+5.6), Milwaukee (+0.3), Miami (-1.5) and Philadelphia (-1.9).
Opinions will vary, but making it to the Eastern Conference Finals should be enough to constitute success after losing one of the best players in the world. Even a competitive second-round series should be enough to satisfy some fans and pundits.
Utah Jazz
What is Utah's playoff ceiling without Bojan Bogdanovic?
Bogdanovic underwent season-ending wrist surgery in mid-May. As a result, Utah loses its second-leading scorer (20.2 points per game) and most prolific three-point shooter (3.0 three pointers per game on 41.4 percent).
The on/off numbers demonstrate his impact. With Bogdanovic on the court, Utah is +9.8 points per 100 possessions. Lineups without Bogdanovic are -3.5 points per 100 possessions, comparable to the Bulls (-3.4) and Pistons (-3.8). I've always said that Mitchell and Gobert were the Western Conference version of Derrick Rose and Andre Drummond – finally I get some confirmation.
Joe Ingles, Royce O'Neale and Jordan Clarkson will try to pick up the slack, and there's always the chance Mike Conley has a bounceback. But losing Bogdanovic ultimately puts Utah's likely postseason opponents – Houston and Oklahoma City – on more equal footing. It won't be an easy first round.
READ ON: Part One