While it might be sad to see the summer months firmly in our rear-view mirror, October is an exciting month because that means the NBA is finally back!
We certainly had a busy offseason, which included superstars like Kawhi Leonard, Anthony Davis and Russell Westbrook changing teams. Even less-prominent players like Terry Rozier and Julius Randle find themselves in positions to thrive with their new respective squads.
It's also that magical time of year when you build what will hopefully be a winning fantasy basketball squad. In an effort to do that, it's key to hunt for some sleepers or busts that could prove to be the difference in being the champion, or finishing towards the bottom, of your league.
Another aspect that should not be overlooked is the NBA schedule itself. Yes, every team plays 82 games. However, if you are playing in a head-to-head league, knowing the intricacies of the schedule can give you an edge over your opponents.
Let's dig into various aspects of the schedule to see what opportunities are out there for you to exploit.
October
The Clippers made arguably the biggest splash during the offseason by bringing in both Leonard and Paul George. The league will waste no time showing off one of its most-hyped squads with the Clippers playing a league-high six games in October. That includes an exciting matchup against the Lakers in both teams' first game of the season.
With how often Leonard sat last season for the Raptors, it will be interesting to see how much he plays right out of the gate. Their last three games of the month come over a span of four days, so we'll get some insight early as to how they plan to deploy him. George may also be eased back into things as he recovers from shoulder surgery.
Outside of the Clippers, there isn't much of an advantage to be gained in October with all of the other teams in the league playing four or five times each. The Celtics will be able to somewhat ease into the Kemba Walker era with them playing only four games, but they will be tested with two of those contests coming against the Sixers and Bucks.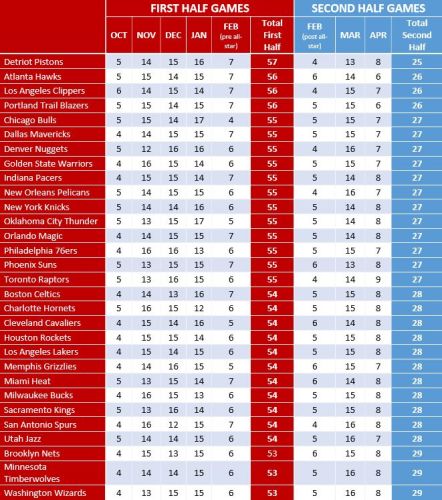 November
We have some dramatic swings in games played in November. The Hornets, Warriors, Bucks, Sixers and Spurs will all play 16 times each, while the Nuggets will only play 12 times. One interesting schedule to make note of is that of the Suns, who will play 13 times. Phoenix plays only two games in both Weeks 4 and 6, dealing a significant blow to Suns' players' fantasy upsides. However, the Suns log five games in Week 5. That is actually the only time all season in which a team will play five games in one week.
The Warriors schedule is worth highlighting because they have three back-to-back sets as a result of their 16 games. They also have one three-game road trip that is played over a span of four days that will take them from Houston to Minnesota to Oklahoma City. On top of that, they have a four-game road trip later in the month. That could put them behind the eight ball in what will already likely be an adjustment period with Kevin Durant now in Brooklyn and Klay Thompson injured.
December
After a hectic November, the Spurs will play a league-low 12 games in December. They start off with only two games each in Weeks 7 and 8, which doesn't leave them with significant fantasy appeal. The Nuggets, Sixers, Raptors, Grizzlies and Kings are all at the other end up the spectrum with a league-high 16 games each during the month. The Sixers' heavy schedule could be a concern for Joel Embiid. They have three back-to-back sets and will play four of their final five games of the month on the road. Since they have plenty of depth up front with Al Horford and Kyle O'Quinn now on the fold, don't be surprised to see Embiid receive a game or two off for rest.
The Lakers have an interesting schedule with nine of their 14 games coming on the road. That includes tough matchups against the Nuggets, Jazz and Bucks. They even have a four-game stretch that starts in Week 9 and spreads into Week 10 in which they play four straight games against the Bucks, Nuggets, Clippers and Blazers. That should be a good test for their new-look roster.
January
Get ready to see a lot of the Bulls, with Chicago playing 17 games in January. They play four games each in Weeks 12 through 15, leaving them with plenty of fantasy appeal. The key will be remaining healthy, which the team mostly couldn't do last season. After adding Otto Porter at the deadline last year, they could challenge for a playoff spot if they can avoid another injury-plagued campaign.
One team that figures to have the least appealing roster in terms of fantasy is the Hornets. They lost their star in Walker and the only really significant addition they made was bringing in Rozier. It won't help their cause that they play 12 games in January, including only two games each in Weeks 13 and 14.
As far as tough schedules go, the Knicks could be in trouble as they start off the month by playing the Blazers, Clippers, Lakers, Jazz, Pelicans, Heat and Bucks in seven of their first eight games. The new-look Rockets will also play a four-game road trip over a span of six days against the Timberwolves, Nuggets, Jazz and Blazers.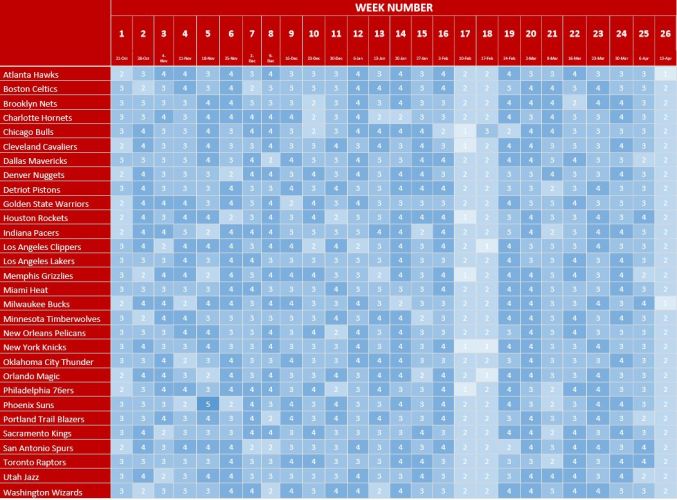 February and the "Halfway" Point
The All-Star break isn't technically the halfway point of the season considering most teams have played far more than 41 games. In fact, no team heads into the break having played fewer than 53 games. The three teams who will have taken the floor the fewest number of times are the Nets, Timberwolves and Wizards. Every game matters, so it might be worth targeting some of their players in trades. The Pistons will have played the most games at 57, followed by the Hawks, Clippers and Blazers, who each will have played 56 games.
Week 18 marks the first week back from the All-Star break and the Bulls will have a distinct advantage by being the only team that plays three games. Things aren't as rosy for players on the Clippers, Knicks and Magic since they only play one time each.
March
We're heading down the home stretch with six teams playing 16 times each in March. Among them is the Wizards, who have a stripped-down roster outside of Bradley Beal. If he were to be traded before this point, this team could really be a dumpster fire. The Jazz will also be busy, playing four games each in Weeks 20 through 22. They and the Nets (Weeks 19 through 21) are the only two teams to play four games in three straight weeks after the All-Star break. The problem with the Nets is that they play a league-low two games in Week 22, dealing a tough blow to the fantasy upside for Kyrie Irving and company.
As far as difficult travel goes, the league won't be doing the Lakers any favors this month. They close things out playing six straight games on the road in a span of 10 days. All but one of those games is on the East Coast, as well.
April
April is always a tricky month in terms of projecting how often players will take the court. Tanking teams tend to play their young players more while teams with championship aspirations might rest their veterans often to prepare for the playoffs. The Raptors could still be in playoff contention despite losing Leonard, so their league-high nine games in April could prove to be the difference maker in fantasy leagues that are playing until the very end.
Among the 18 teams that play eight games each are the Bucks, Rockets and Celtics. All three teams figure to be firmly in the playoffs by this time, which could lead to some load management days to worry about. The Bucks have arguably the most unappealing schedule out of those three since they have to play five of their final seven games on the road. In fact, they don't play at least two consecutive games at home again after playing three straight there from March 23-27.